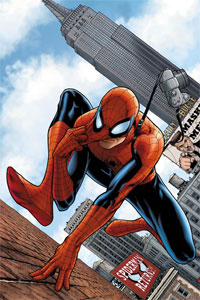 I've just received word from Lissette Mendez, the program coordinator for Miami Book Fair International and the Florida Center for the Literary Arts, that there will be a special program about teaching with comic books on Friday,
November 14, 2008
. This is a great opportunity to learn something extremely cool, that your students can really relate to. As Lissette says, "
MAUS
is a literary classic, but there are many, many comics that can be used in the classroom." (Art Spiegelman, author of
MAUS
, will be at the Fair this year, by the way.)
Full details are included in the press release below.
The world of comics comes alive at the 25th Anniversary Miami Book Fair International with a new component dedicated to comic books and graphic novels. Presented in collaboration with Diamond Book Distributors, the Comix Galaxy will present sessions with creators/authors, a gallery exhibition of original comics artwork, and the participation of comics publishers and retailers, as well as a day of free panel discussions for librarians, educators, and parents who want to teach using comic books and graphic novels. The School of Comics: All About Graphic Novels, Comic Books and Manga will be held on Friday, November 14, at Miami Dade College's (MDC) Wolfson Campus, 500 N.E. Second Ave., Building 7, Room 7128.

A complete list of Comix Galaxy panel discussions is listed below:
10-10:50 a.m. Welcome Session: Panel Discussion with Arlene Allen, Robin Brenner, Adam Johnson, Tom Kealey, Francoise Mouly and David Serchay
Witness the explosion of graphic novel and comics related blockbuster movies and television shows, such as Heroes on NBC. The success of graphic novels began in a place where it was least expected: the library. Facilitators will discuss what led to this point and what can be done to capitalize on this new form of literacy.

11-11:50 a.m. Graphic Novels: Introducing an Exciting Format that Draws New Readers! Facilitated by Librarian David Serchay
Graphic novels have an increased presence in libraries, and while titles are not suitable for all ages, more and more titles are being created for younger readers. They are even being used in classroom activities and reading lists. Serchay discusses what sort of graphic novels are available, and how to discern age-appropriateness. Why librarians and educators should have them in their library (or collection), how to purchase, catalogue and shelve them, how to publicize the collection, and how to make use of it in the library, media center or classroom. 1-1:50 p.m. Welcome to Manga! What is this stuff from Japan? Facilitated by Librarian Arlene Allen
This entry-level session will be a gateway into the world of Japanese manga comics. How should librarians and educators select manga and create manga reading clubs?

Is there a difference between manga and anime? Adding manga and graphic novels to a collection can deliver circulation numbers and bring in an entirely new and different reading population.

2-2:50 p.m. A Deeper Look At Manga: The world of the Otaku
Facilitated by Librarian Robin Brenner
Robin Brenner's appearance courtesy of Bookreporter.com and TeenReads.com
Due to its origins in Japanese culture, manga carries with it an entire world of iconography and meaning. Beyond the characters--Pokemon, Naruto, Sailor Moon and Fruitsbasket, there are themes and languages that are part of each genre within the manga format that continue to delight, entertain and even educate a generation of new readers. What is Shojo, Yaoi, Shonen, or Josei? This session will reveal the deeper, hidden meanings in the language of the Otaku, or fan of manga.

3-3:50 p.m.Comics and Writing: Shake Girl, The Stanford University Graphic Novel Project
Facilitated by Professor Adam Johnson
Professor Adam Johnson created a unique project for Stanford University's Creative Writing Department combining comics creation and creative writing. In just ten short weeks, his students created a phenomenal story based on true events that took place in Cambodia--the graphic novel, Shake Girl. During the course of the program, the students studied the craft of storytelling through this exciting medium, and collaborated to write and publish their own book. Johnson will discuss the development of this program and what it can mean to writing programs of all levels.

Participants are encouraged to attend all sessions, but it is not required.

The School of Comics: All About Graphic Novels, Comic Books and Mangais free and open to the public, but registration is required. To register visit

www.miami

bookfair.com and click on Comix Galaxy. To obtain more information, please contact Lissette Mendez at 305-237-3940,

Lissette.mendez@mdc.edu

.