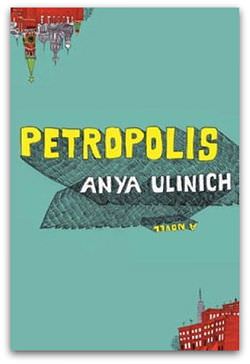 I just got word from the Foundation for Jewish Culture that Anya Ulinich is the 2008 winner of the Goldberg Prize for Emerging Writers of Jewish Fiction.
Last year, Anya was one of the National Book Foundation's "
5 Under 35
," meaning she was recognized as a promising young writer bursting upon the literary scene. FJC says "Critical praise for Anya's first novel,
Petropolis
, has surfaced in publications as diverse as
USA Today
, the
Boston Globe
, and
Ms. Magazine
-and we're delighted to recognize her as a vibrant addition to the cultural landscape. With Channukah not so far away, I'd highly recommend this delicious, painterly (Anya was trained as a visual artist), brilliant first novel (I couldn't put it down) as a gift for someone you
love (and it just came out in

paperback

)
. And if you'll be in DC in December, please join us as we present Anya with her award."

The reception will be held on Monday, December 22, 2008
at the Grand Hyatt hotel in Washington DC
.
The reception will be held in conjunction with the Association for Jewish Studies annual conference and is open and free to the public. For more information or to RSVP, please contact grants[at]jewishculture[dot]org.

The Goldberg Prize was e
stablished in 1999 and supported through a generous grant from the Samuel Goldberg & Sons Foundation, the Goldberg Prize for Jewish Fiction by Emerging Writers is among the very first of its kind to highlight new works by contemporary writers exploring Jewish themes. The prize spotlights promising new talent, and is awarded to an American fiction writer for a first or second full-length work that was published in the previous calendar year. Submissions must be made by the publisher. The award includes a prize of $2,500, as well as a one-week residency at Ledig House International Writers Colony in New York's Hudson Valley.